The poultry industry is one of the fastest growing industries in the world, providing a sustainable source of animal protein to meet the increasing demand for food. The Ghent University Postgraduate course in Poultry Health Sciences is designed to equip professionals with the knowledge, skills, and understanding to address global and local challenges in the poultry industry. This program will offer an in-depth education in various aspects of poultry health sciences, bridging the gap between theoretical and applied knowledge.
---
---
Why Study Poultry Health Sciences
The poultry industry offers a variety of careers in veterinary sciences, pharmaceutical sciences, nutrition, disease and quality control, sustainability, animal welfare, and food safety, to name a few. With the increasing demand for animal protein, there will be a growing need for professionals trained in poultry health sciences in the next decade. This program will provide advanced training to improve career prospects and meet the demands of the poultry industry.
Course Structure
The postgraduate in Poultry Health Sciences is a three-year program offered as an online course supported by 5 weeks of onsite practical training and 2 weeks of externship. The online format provides students with the flexibility to study from anywhere and at any time over the internet, while the practical training and externship provide hands-on experience. This unique blend of online and onsite learning provides students with both in-depth theoretical and practical knowledge.
Curriculum Overview
Year 1 of the program will cover basic avian sciences, including embryology, anatomy, physiology, immunology, breeding and genetics, poultry production, management, husbandry, and biosecurity, and gut health and nutrition.
Year 2 will focus on scientific methods and reasoning, treatment and prevention, and diseases of poultry.
Year 3 will cover poultry behavior and welfare, food safety, and an externship.
Eligibility and Admissions
This course is open to students with a diverse educational background who have an interest in poultry health sciences. It is not limited to veterinarians. Students should have completed a bachelor's degree in a related field and be fluent in English.
Location and Availability
The program is already available in Latin America, in Europe and in Asia.
Conclusion
The Ghent University Postgraduate course in Poultry Health Sciences offers a unique opportunity to gain in-depth knowledge and hands-on experience in poultry health sciences. With the growing demand for animal protein, this program will provide a valuable investment in your future and advance your career in the poultry industry. For more information, please fill out the contact form.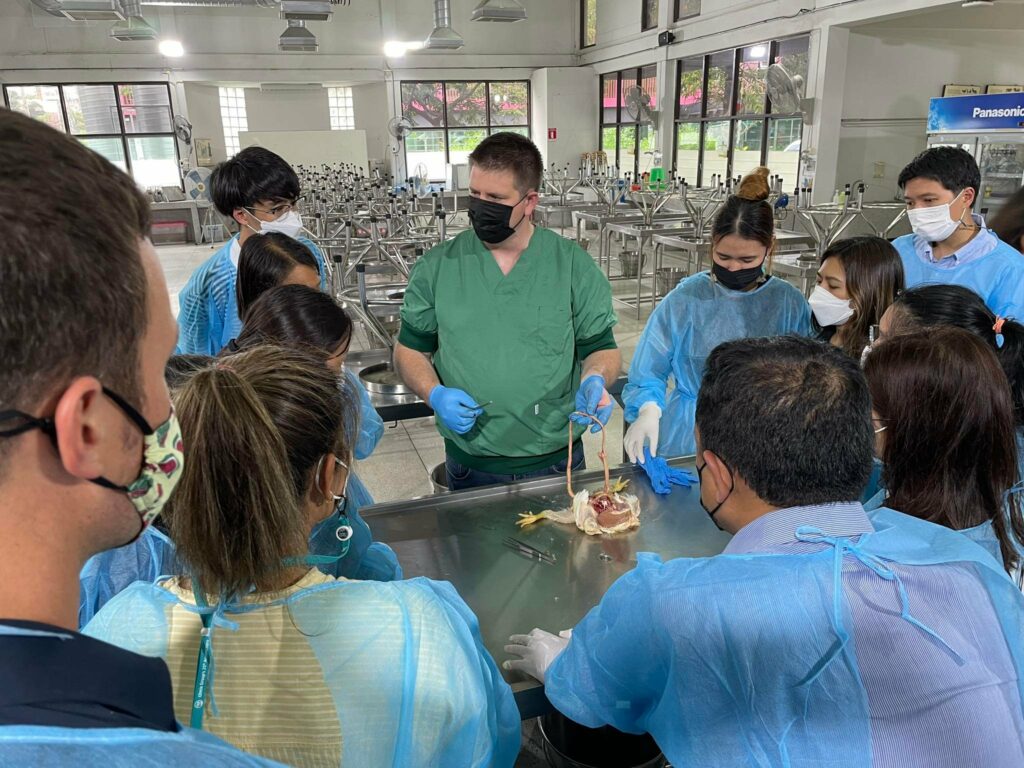 ---
Postgraduate in Poultry Health Sciences
The Ghent University's Postgraduate course in Poultry Health Sciences will offer an unprecedented opportunity to study all aspects of poultry health sciences. It bridges the gap between theoretical and applied knowledge, equipping professionals with the skills, understanding and know-how to tackle global and local challenges for poultry production.
Background
The demand for animal protein has increased, creating a booming livestock sector due to population growth, rising incomes and urbanisation.
A particularly sustainable source of this protein is poultry thanks to their efficient conversion rate of feed into body mass in comparison to other production animals, as well as their low land-use requirements and water consumption.
The poultry industry has become highly advanced due to innovative technologies, requiring expertise in many different disciplines such as management, husbandry, biosecurity, nutrition, disease control, sustainability and food safety.
Advanced Professional Training
Advanced training courses are critical for employees of veterinary practices, pharmaceutical companies, animal feed companies and research institutes that want to further develop their proficiency in poultry health sciences. However these types of programs often lack sufficient depth of content or duration.
Therefore this postgraduate course was designed to provide a comprehensive education program combining theoretical knowledge with practical application over three years.
This approach can be experienced through distance learning with flexibility for students who need to juggle employment or other commitments alongside the studies – plus five weeks onsite practical trainings along with two weeks externship per year .
Furthermore the course has been created with a diverse background of students in mind – not just veterinarians – providing everyone interested in poultry health sciences access to quality education.
Request more information today about becoming part of this exciting postgraduate programme and join other like-minded professionals from around the world.
---