Broiler Signals book, African edition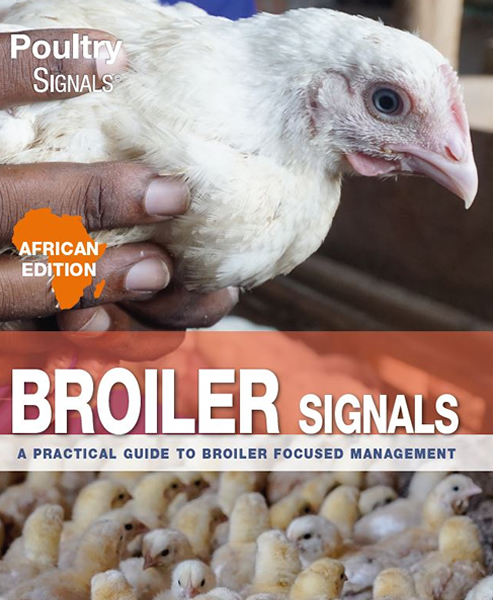 Languages:
Available in English.
Author: Maarten De Gussem
Pages: 136
| | | |
| --- | --- | --- |
| | Paperback | € 43,90 |
| | Online Book | € 34.90 |
---
Sample – demo
---
Description
'If keeping laying hens is like running a marathon, broiler production is a sprint.
There's no time for mistakes.'
Broilers are fast growing animals that need constant care. Your birds continuously send out signals: about their health and whether they feel happy and comfortable. If you are able to recognise these signals in practice, you can use them to improve your management. For the African poultry farmer this means being alert in the broiler house, observing and listening to the birds.
Make sure you have a good start! Everything in place and the farm free of poultry diseases. Also make sure you have procedures to keep it that way! Choose the breed that best fits your circumstances. And do you have sufficient feed of good quality available? Water is the cheapest of all nutrients, but the most important one. Often, water seems a bit neglected. If well managed it supports your production, if not managed well it is a source of problems (bad feed conversion, heat stress, diseases).
The book Broiler Signals African edition follows the bird on a broiler farm in Africa. As day-old chicks they have to be of excellent quality and this book provides you the tools to assess day-old chicks.
After the initial week, the broilers have to start growing fast and efficiently, which asks for a good intestinal health. Once they grow older and larger heat stress might become a problem in warm climates. Leg quality often becomes a problem as the birds get heavier and litter deteriorates towards the end of production. Bringing the birds to the market may include processing broilers in a cold chain requiring a lot of attention to hygiene.
Broiler Signals African edition is a practical guide that shows you how to pick up the signals given by your animals at an early stage, how to interpret them and what action to take.
Author: Maarten de Gussem
---
Broiler Signals African edition is a practical guide for poultry farmers in Africa looking to improve their management of fast-growing broiler chickens. The book covers everything from choosing the right breed and ensuring a good start with healthy, disease-free birds, to managing water and feed for optimal growth and preventing heat stress and leg quality issues as the birds get older. The book also covers the importance of maintaining a cold chain for processing broilers and the importance of hygiene. With tips on how to recognize and interpret the signals given by your animals, this book is a valuable resource for any African poultry farmer.
---