Poultry farming training courses
Elevate Your Poultry Farming Skills with Vetworks Training Courses
Comprehensive, industry-leading poultry farming training courses for poultry professionals
In the constantly evolving world of poultry farming, staying abreast of the latest industry advancements is paramount. Vetworks is committed to providing comprehensive training courses designed to hone your skills and enhance your knowledge, ensuring that you remain competitive in today's fast-paced poultry industry.
Our suite of poultry farming training courses caters to a diverse range of professionals within the field, including veterinarians, growers, farmers, nutritionists, and technical advisors. From respiratory training to breeder management, we cover a myriad of crucial topics that encompass the entire spectrum of poultry farming. Enroll in one of our courses today and take your poultry farming expertise to the next level.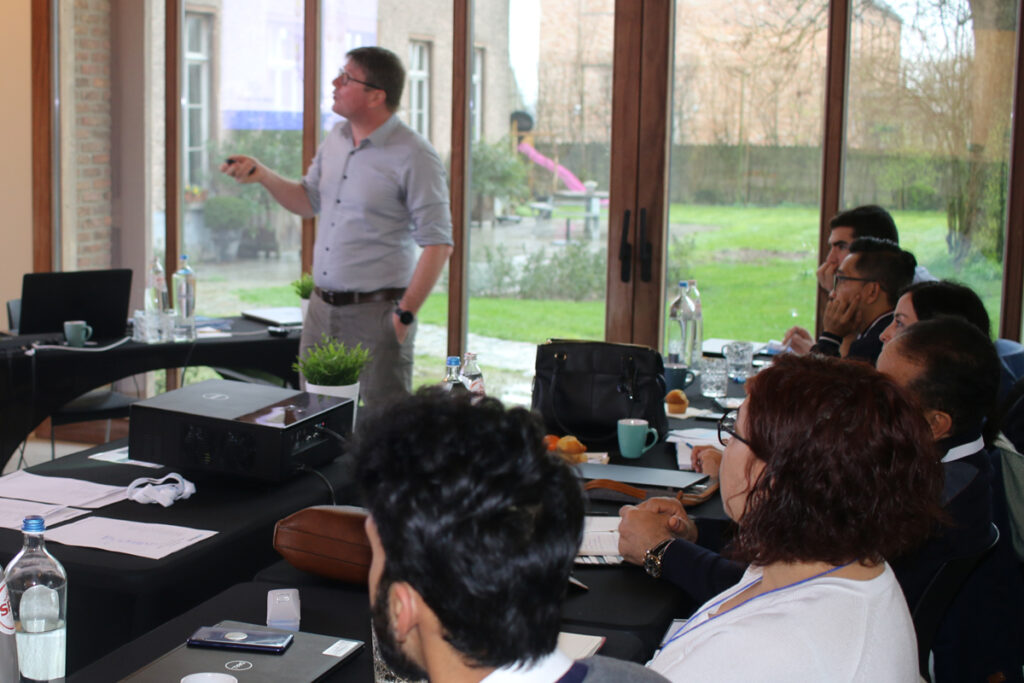 ---
---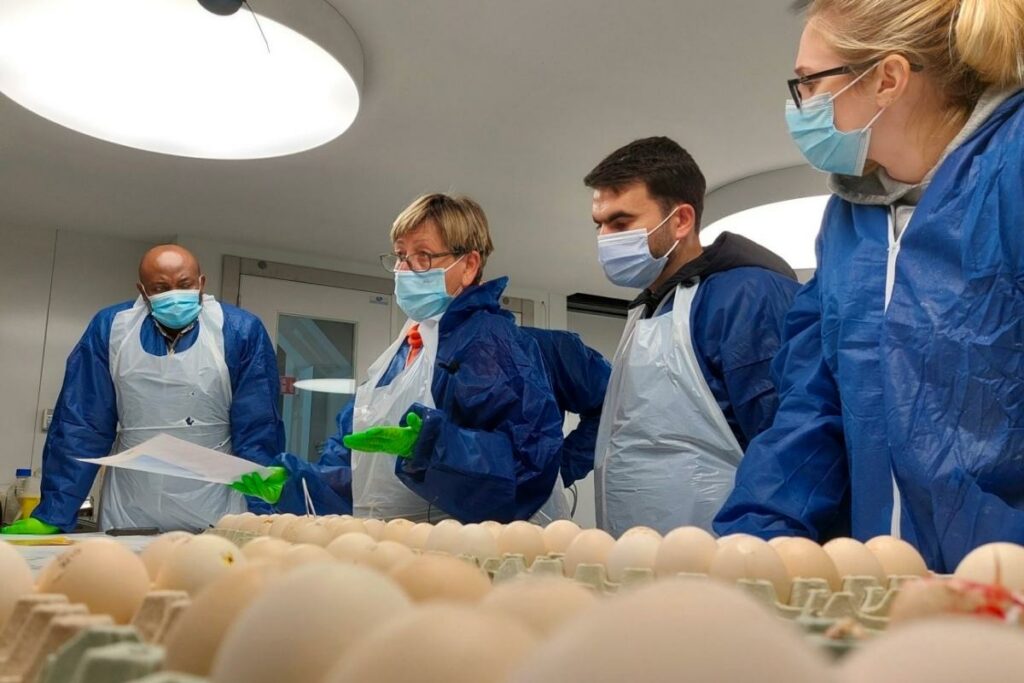 Poultry farming training courses by Vetworks
I. Respiratory Training Course: Breathe New Life into Your Flock's Health and Productivity
Pulmonary afflictions are notorious for impeding the health and productivity of poultry flocks. Vetworks' three-day Respiratory Training courses delve into the complex world of avian respiratory diseases, equipping professionals with a robust understanding of pathology, diagnosis, and treatment.
Through a combination of theoretical knowledge and practical application, our course empowers attendees with the essential skills required to effectively mitigate respiratory issues within their flocks. Don't let pulmonary complications stifle your flock's potential—invest in this indispensable training course offered by Vetworks.
II. Breeder Management Training Course: Optimize Your Flock's Performance and Yield
The Breeder Management Training course, offered by Vetworks, aims to refine your breeding management techniques, ultimately improving the performance of your breeder flocks.
This comprehensive program seamlessly melds academic insights with hands-on experience, providing attendees with the tools needed to apply their newfound knowledge within their farming operations. Our instructors, boasting diverse global backgrounds, impart invaluable expertise culled from years of industry experience.
Regardless of your specific role within the poultry industry, this course promises to elevate your breeding management acumen. Enroll today and seize the opportunity to bolster your skills in this vital aspect of poultry farming.
III. Responsible Use of Antimicrobials Training Course: Achieve Compliance and Foster Sustainability
In response to growing concerns about antibiotic resistance, poultry professionals must adopt judicious antimicrobial usage strategies. Vetworks' Responsible Use of Antimicrobials training course offers attendees the education and guidance necessary to conform to antibiotic resistance reduction programs. By focusing on economically viable operations, we demonstrate how to reduce antimicrobial use while simultaneously enhancing overall business performance.
Attend our live training session in Bruges-Poeke, Belgium, or opt for our convenient online streaming option, accessible from anywhere in the world. Don't miss this invaluable opportunity to expand your knowledge and adopt sustainable practices in the prudent use of antimicrobials.
IV. Parasitology Training Course: Combat Parasitic Diseases to Fortify Your Flock's Health
Parasites can wreak havoc on poultry flocks, necessitating swift and informed intervention. Vetworks' Parasitology Training course imparts critical knowledge on the latest control methods and prevention strategies, helping professionals tackle parasitic diseases head-on. The program encompasses vital topics such as helminth infections, coccidiosis control measures, and external parasites like Dermanyssus gallinae. Suitable for a wide range of professionals, this course is accessible via live training or online streaming, allowing participants from around the world to bolster their expertise in Parasitology. Don't let parasites compromise your flock's health—enroll in our Parasitology Training course today.
V. Gut Health & Nutrition Training Course: Optimize Your Poultry Operation with Expert Insights
Gut health and nutrition are key factors in ensuring the vitality and productivity of your poultry flock. Vetworks' Gut Health and Nutrition Training course delivers crucial information on feed evaluation, optimization, and the impact of quality control on gut health. Available through live training or online streaming, this course is an invaluable resource for poultry professionals, including veterinarians, growers, farmers, nutritionists, and technical advisors. Don't miss out on this opportunity to advance your career—register for our Gut Health & Nutrition Training course now.
VI. Welfare Training Course: Foster Ethical Poultry Practices and Enhance Animal Well-Being
The importance of animal welfare in poultry farming cannot be overstated. Vetworks' Welfare Training course offers a comprehensive curriculum covering general poultry welfare, hatchery practices, and interactive workshops, including field visits to production sites. Drawing from our team's extensive global experience, we equip participants with practical know-how to apply ethical theories to their farming operations. Accessible via live training or online streaming, this course offers a unique opportunity to improve the well-being of your poultry. Register for our Welfare Training course today.
VII. Gut Health & Food Safety Training Course: Strengthen Your Flocks and Safeguard Your Products
Vetworks' Gut Health & Food Safety training course offers a comprehensive educational experience for poultry farmers seeking to enhance the health and safety of their flocks. This intensive program delves into gut health management, addressing early feeding, coccidiosis control, bacterial enteritis mitigation, and the relationship between gut health and food safety. Furthermore, the course covers common zoonoses like Salmonella and Campylobacter, as well as the burgeoning issue of antimicrobial resistance in poultry production. Join us at Vetworks to elevate the welfare of your birds and the safety of your products.
---
FAQs – Frequently Asked Questions About Our Poultry Farming Training Courses
How can I participate in the Vetworks courses?
Vetworks offers live training sessions in Belgium and other locations, providing hands-on experience and opportunities for interaction. Additionally, we offer online streaming courses, allowing participants to learn from the comfort of their own offices or homes. Sign up for either option on our website and expand your knowledge and skills with Vetworks' poultry management training courses.
What makes Vetworks training courses unique?
Our courses provide a blend of comprehensive academic understanding and practical on-farm application. Our team of instructors, with extensive global experience, ensures that you receive top-notch training that equips you to apply your new skills on your farms.
Who are Vetworks training courses for?
Our courses cater to a wide range of professionals within the poultry industry, including breeders, farmers, nutritionists, technical advisors, and veterinarians. Each course delivers the latest information and practical experience on various aspects of poultry production, empowering participants to advance their careers through continuous education.
---
Join one of our poultry farming training courses
Vetworks is dedicated to providing world-class poultry farming training courses that cater to the needs of various professionals within the industry. Our comprehensive courses, led by esteemed experts, ensure that you stay up-to-date with the latest advancements and best practices. Invest in your future and elevate your career by enrolling in one of Vetworks' poultry farming training courses today.